Coming to Poland meant having some preconceptions about what was waiting for me here. What could I expect from a place whose motto is "Bóg, Honor, i Ojczyzna," or "God, Honor, & Homeland?"
Poland is conservative, it's religious and it's the post-communist home to just 39 million people, 2 million of which live in Warsaw. In comparison, New York and London each share about 8-9 million people in the city.
So after a few meetings with Warsaw Social Group, I decided to take the advice of some of it's members and check out Saska Kępa, Olympia, Śródmieście and Praga – places I didn't find in my guides to Poland or on the free maps handed out in hostels and hotels.
What I found just beyond the river Wisła was art, architecture, mansions, café's, museums, shops and so much more.
---
This district largely escaped the destructive rampage that was WWII and is now home to some of the most expensive and elegant homes and buildings in Warsaw.
Walk down Ulica Francuska to find some of Saska Kępa's shops, cafés and restaurants. Be sure to also look out for the homes of some of Poland's famous poets, artists, and military personnel.
Just across the river from Praga Południe, before Ujazdowski Park and off of Ul. Rozbrat on bus numer 170 we found some free art in the city.
If you're not afraid to get your shoes a little dirty, this underpass is home to a wide collection of graffiti. From hard lines and color saturated words to delicate ballerina's and introspective perspectives on socio-economic matters; we found everything here.
What's also great about this area is that it's in "Śródmieście" which translates to "the middle of the city." Outside of street art, Śródmieście also offers a skatepark, a green city park and the Polish Army Stadium – home of Warsaw's Legia football team.
In Praga's Soho district, yes Warsaw has a Soho district; you can find the Neon Museum. Home to a short but intriguing tour of Poland's retired Neon signs.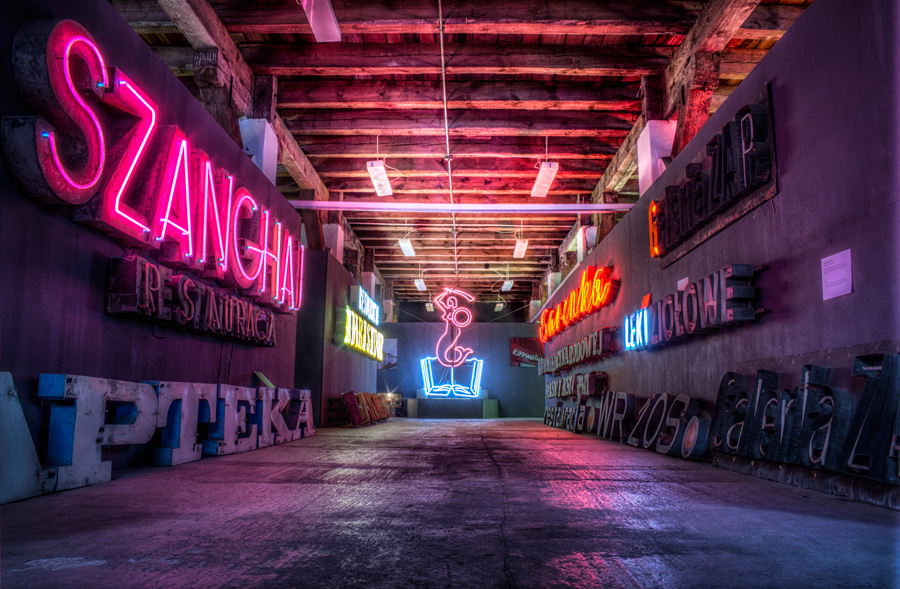 There are a few events and performances sporadically offered at the space, but the Soho district is generally an area to drink expensive coffee, shop at overpriced stores and pay 12 zł to see a few flickering lights.
If man-made magic doesn't do you justice, the Praga district also offers an amazing tour of the zoo; home to a few exotic birds, lions, and a nosy giraffe. It's the perfect place to take your children or walk alone in the middle of a safe and beautiful metropolitan jungle.
Olympia is most known for the huge rainbow installation centered in Plac Zbawiciela or Savior Square. After a few fires – 5 to be exact – Julia Wojcik's, "Tęcza" still stands as a gateway to clubs like Plan B, Charlotte Bistro, and tasty crêpes at Bastylia's Champagne Bar & Crêperie.
---
Traveling just outside of my comfort zone and deeper into the city changed my perspective on Warsaw. The city has an amazing communal spirit with the indescribable new energy of a start up on the brink of their big break.
Yes, there are plenty of churches and communist-era walk-ups here, but the history of this city is what makes the new energy brought to it so special.
So skip the Palace and take a tram or ride a city bike beyond the river, or just past a rainbow into a new experience in Warsaw.
---
Please be sure to add any great suggestions we might have missed in the comments below or on our Facebook or Meet Up Page.
---